Almeria Translation Services

We speak
---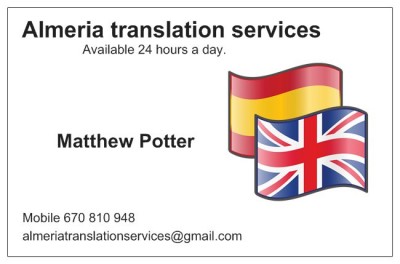 Description
·I provide any form of translation needed, at any time.

·30 years experience as a translator/interpreter for the British community in Almeria.

·Located just 15 minutes from Almeria city, providing help at local hospitals, clinics, such as.

Torrecardenas Hospital
Bola Azul hospital
Virgen del Mar Hospital
Hospital Mediterraneo
Hospital del Poniente.
Red Cross Hospital.
Hospital Provincial.
Hospital El Toyo.
---
Contact us
Address:
Casa Maria
Rambla de Tabernas
Gador
04560
Telephone: 670 810 948
Mobile: 670 810 948
---