Traditional Recipes for Andalusian Migas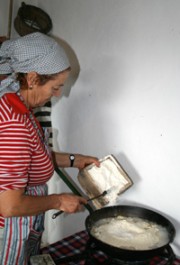 Migas are a simple, but tasty dish that have been an important staple of the farmers and workers of the communities of Andalusia, Extremadura, Castile-La Mancha and heading north as far as Navarre.
There are many different recipes and they can be made with either bread or flour. They may accompanied be by a great variety of ingredients such as, fried fish (often herring), fried eggs and even fruits like grapes and pomegranates. Folk have even been known to dip them in their chocolate or coffee.
Migas de Pan (Bread Migas)
Ingredients
12 slices of stale bread
6 Garlic cloves
250 grams of chorizo (pork sausage)
100 grams of bacon
100 ml of olive oil
Salt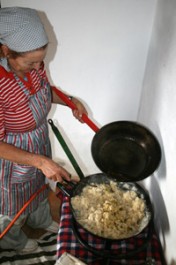 Remove the crusts from the bread and then chop into small pieces. Place the bread into a bowl and sprinkle with warm water. Add a few pinches of salt. Continue to sprinkle enough water to moisten the bread without allowing it to become soggy. Cover the saucepan with a tea towel and leave for at least an hour.
Peal and slice the garlic. Slice the chorizo and chop the bacon in small cubes.
Place a deep saucepan on the hob and add the olive oil. Add the garlic and fry until golden. Lower the flame. Now add the chorizo and bacon. Stir until the bacon fat has cooked. Add the bread and keep stirring constantly to ensure that the migas don't stick together. When the migas become crisp and golden they are ready to eat.
Migas de Harina (Flour Migas)
This is the traditional Andalusian method that our friend and neighbour Isabel uses to cook migas.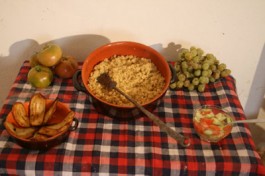 Ingredients
4 cups of water
6 cups of flour
1 cup of Olive oil
Salt to taste
In a large saucepan heat the water and salt until it begins to boil. Add the flour and stir until it becomes dough-like. Heat the olive oil and add it to the dough mix while stirring. Continue to stir until until the oil is absorbed and the dough breaks up and becomes golden and crispy.
Article First Published: Saturday, 10th November 2007, 09:30 CET
Last Updated: Tuesday, 11th December 2007, 16:48 CET
Author: Albox News Rover & José Luis Chacon